Pressure Reducing Valve
Material : Brass / Cast Steel / Cast Iron / Ductile Iron / Stainless Steel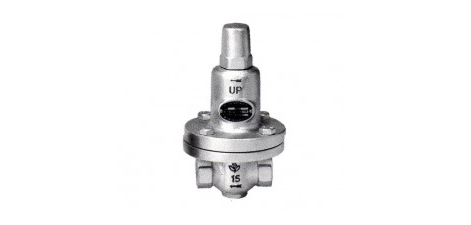 Pressure Reducing Valve suitable for fluid, air and steam. The gate is balanced-pressure designed, which will not influence the outlet pressure caused by unstable inlet pressure. When the outlet pressure responds directly to the pressure control chamber and adjusts the setting pressure, it responds quickly and adjusts the pressure accurately. The design of piston and diaphragm improves the inability of sustaining pressure and leakage.
DESCRIPTIONS
OUR REF.
DOWNLOAD

ARITA

SS316 PRESSURE REDUCING VALVE BSPT (SEAT: NBR)
ARPRV
CATALOG

Z-TIDE

SS316 PRESSURE REDUCING VALVE BSPT C/W PRESSURE GAUGE (SEAT: VITON)
ARPRV1
CATALOG

Z-TIDE

SS316 PRESSURE REDUCING VALVE F/E PN16 (SEAT: PTFE)
ARPRVZ
CATALOG

OR204

BRASS WATER/AIR PRESSURE REDUCING VALVE PN40 BSPT
ORPRV
CATALOG

SAMYANG

CAST IRON PRESSURE REDUCING VALVE TYPE YPR-50 BSPT (015MM-025MM)
SYVP05
CATALOG

SAMYANG

CAST IRON STEAM PRESSURE REDUCING VALVE TYPE YPR-1S F/E JIS10K (015MM-125MM)
SYVP10
CATALOG

SAMYANG

CAST STEEL PRESSURE REDUCING VALVE TYPE YPR-100 F/E JIS20K
SYVP13
CATALOG

SAMYANG

CAST IRON WATER PRESSURE REDUCING VALVE TYPE YPR-2A BSPT (015MM-025MM)
SYVP21
CATALOG

SAMYANG

CAST IRON WATER PRESSURE REDUCING VALVE TYPE YPR-2A F/E JIS10K (040MM – 080MM)
SYVP21
CATALOG

TUNG LUNG

CAST IRON STEAM PRESSURE REDUCING VALVE BSPT JIS10K TYPE: TL-15
TLPRV1
CATALOG

TUNG LUNG

CAST IRON STEAM PRESSURE REDUCING VALVE F/E TO JIS10K
TLPRV2
CATALOG

YOSHITAKE

DUCTILE IRON STEAM PRESSURE REDUCING VALVE BSPT TYPE: GD-45P
YPRV01
CATALOG

YOSHITAKE

DUCTILE IRON STEAM PRESSURE REDUCING VALVE JIS10K F/E TYPE: GP1000
YPRV10
CATALOG

YOSHITAKE

DUCTILE IRON STEAM PRESSURE REDUCING VALVE JIS20K F/E TYPE: GP2000 UNDRILL
YPRV20
CATALOG