Stainless Steel 304 & Aluminium
(Camlock Coupling)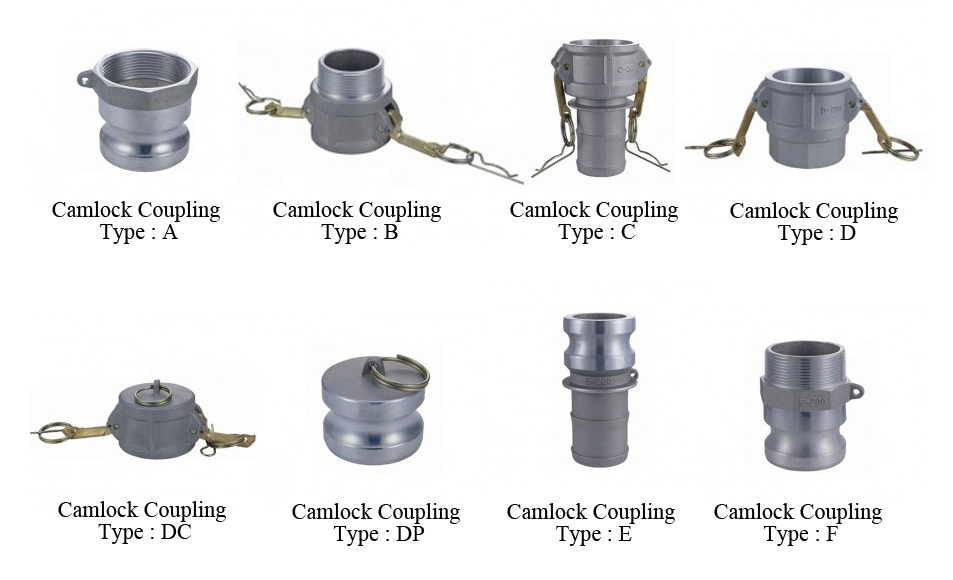 Camlock couplings are commonly available in several materials, including stainless steel and aluminium. The most common types of Camlock coupling are followed type:
TYPE A: Adapter (male end) with female thread, e.g. BSP or NPT
TYPE B: Coupler (female end) with male thread, e.g. BSP or NPT
TYPE C: Coupler with a shank (hose barb)
TYPE D: Coupler with female thread
TYPE E: Adapter with shank
TYPE F: Adapter with male thread
These couplings are available in 1/2″ to 8″ sizes.
CAMLOCK FITTINGS APPLICATIONS
Connection to hoses, pipes, tanks, tubing that convey, vapours, powders and liquids including pellets, cooling water, food products, pharmaceuticals, fuels, dyes, chemicals, adhesives, cosmetics etc.
Material: Aluminium
| | | |
| --- | --- | --- |
| DESCRIPTION | TYPE | OUR REF. |
| ARITA ALUMINIUM COUPLING | TYPE : A | HKBACA |
| ARITA ALUMINIUM COUPLING | TYPE : B | HKBACB |
| ARITA ALUMINIUM COUPLING | TYPE : C | HKBACC |
| ARITA ALUMINIUM COUPLING | TYPE : D | HKBACD |
| ARITA ALUMINIUM COUPLING | TYPE : E | HKBACE |
| ARITA ALUMINIUM COUPLING | TYPE : F | HKBACF |
| ARITA ALUMINIUM COUPLING | TYPE : DC | HKBADC |
| ARITA ALUMINIUM COUPLING | TYPE : DP | HKBADP |
Material: Brass
| | | |
| --- | --- | --- |
| DESCRIPTION | TYPE | OUR REF. |
| ARITA BRASS CAMLOCK COUPLING | TYPE : B | HBBCCB |
| ARITA BRASS CAMLOCK COUPLING | TYPE : C | HBBCCC |
| ARITA BRASS CAMLOCK COUPLING | TYPE : D | HBBCCD |
| ARITA BRASS CAMLOCK COUPLING | TYPE : E | HBBCCE |
| ARITA BRASS CAMLOCK COUPLING | TYPE : F | HBBCCF |
| ARITA BRASS CAMLOCK COUPLING | TYPE : DC | HBBCDC |
| ARITA BRASS CAMLOCK COUPLING | TYPE : DP | HBBCDP |
| ARITA BRASS CAMLOCK COUPLING | TYPE : A | HBBCCA |
Material: SS304
| | | |
| --- | --- | --- |
| DESCRIPTION | TYPE | OUR REF. |
| ARITA SS304 CAMLOCK COUPLING | TYPE : A | HKBCCA |
| ARITA SS304 CAMLOCK COUPLING | TYPE : B | HKBCCB |
| ARITA SS304 CAMLOCK COUPLING | TYPE : C | HKBCCC |
| ARITA SS304 CAMLOCK COUPLING | TYPE : D | HKBCCD |
| ARITA SS304 CAMLOCK COUPLING | TYPE : E | HKBCCE |
| ARITA SS304 CAMLOCK COUPLING | TYPE : F | HKBCCF |
| ARITA SS304 CAMLOCK COUPLING | TYPE : DC | HKBCDC |
| ARITA SS304 CAMLOCK COUPLING | TYPE : DP | HKBCDP |
Material: SS316
| | | |
| --- | --- | --- |
| DESCRIPTION | TYPE | OUR REF. |
| ARITA SS316 CAMLOCK COUPLING | TYPE : A | HKBCCA6 |
| ARITA SS316 CAMLOCK COUPLING | TYPE : B | HKBCCB6 |
| ARITA SS316 CAMLOCK COUPLING | TYPE : C | HKBCCC6 |
| ARITA SS316 CAMLOCK COUPLING | TYPE : D | HKBCCD6 |
| ARITA SS316 CAMLOCK COUPLING | TYPE : E | HKBCCE6 |
| ARITA SS316 CAMLOCK COUPLING | TYPE : F | HKBCCF6 |
| ARITA SS316 CAMLOCK COUPLING | TYPE : DC | HKBCDC6 |
| ARITA SS316 CAMLOCK COUPLING | TYPE : DP | HKBCDP6 |